SUNDAY 05 AUGUST 2018
 
All those who have Italian Federation Membership or Membership of a recognised ITU Federation can enter the race.
All those who are not members of a National Federation can register on the day presenting an Italian medical certificate for Triathlon. The cost of a day pass is 20,00 € for the Sprint distance and for the Olympic distance and 30,00 € for the Half Ironman distance.
The day pass must be paid at registration, The total day pass fee is charged by the Italian National Federation.
A full description of the rules and regulations can be found online at http://www.fitri.it/
CUT OFF TIMES
OLYMPIC DISTANCE TRIATHLON (1,5km – 40km – 10km) cut off time swim and bike is 3 hours
All FITRI rules apply.
OLYMPIC TRIATHLON
Senior e Master
45,00 € by 28.02.2018
60,00 € by 30.06.2018
65,00 € by 31.07.2018
Junior 15,00 € by 31.07.2018
U23 25,00 € by 31.07.2018
ONLINE ENTRY: MySDAM
WITHDRAWAL POLICY
Any entry cancellation will be 100% refunded up to 01/04/2018 and 50% up to 01/06/2018. There will be no refunds after 01/07/2018.
DAY PASS: Athletes who are not National Federation members can also entry by paying for a day pass on the day at registration. At registration they will be required to leave a COPY of the original medical certificate for TRIATHLON.
DAY PASS INFORMATION CAN BE FOUND AT http://www.fitri.it/download/tesseramenti.html?download=968:scheda-tesseramento-giornalieri-2018
RACE TIMES
SATURDAY 4TH AUGUST
17:00 Registration, at the Race Track in Via Suppo Avigliana
20:00 Registration closed
SUNDAY 5th AUGUST
06:00 Registration at the Race Track in Via Suppo Avigliana
07:00 Transition area 1 opens
07:40 Transition area 1 closed
08:00 Start Race (start by wave)
10:10 First athlete expected
12:00 Award ceremony Race Office, Race Track in Via Suppo, Avigliana
PLACE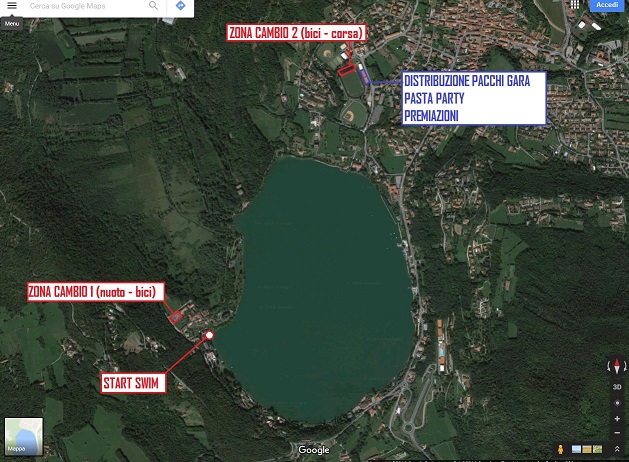 SWIM (2 laps 750 mt)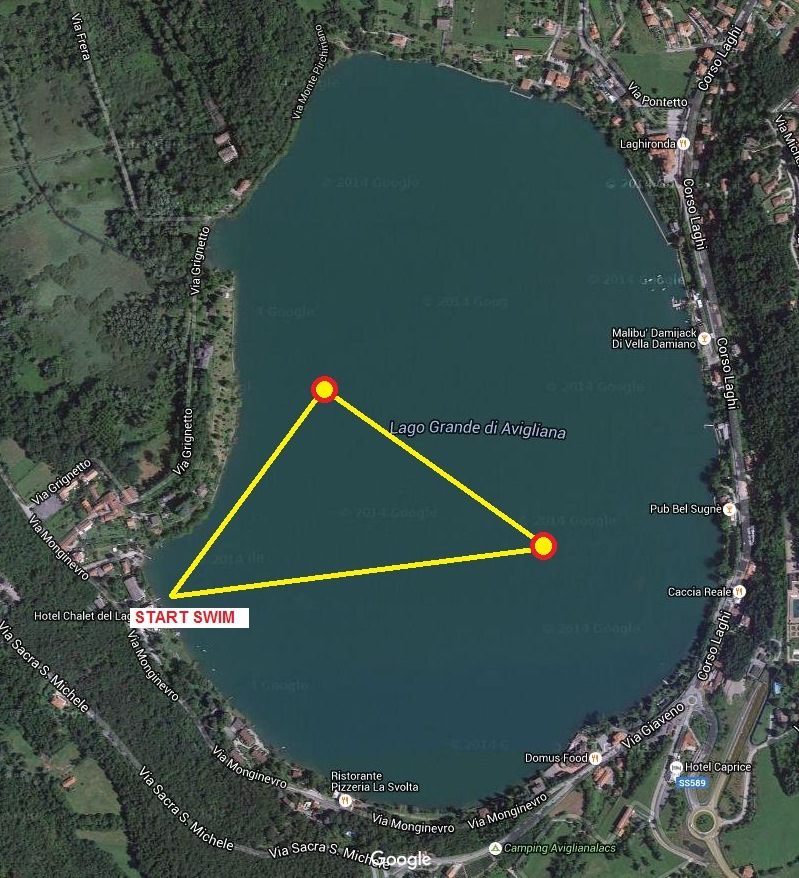 BIKE (1 LAP)
RUN (2 Laps)