10th May 2020 Candia Canavese, Torino, Italy, Half Ironman and Olympic No Draft TRIATHLON
RULES AND REGULATIONS
All those who have Italian Federation Membership or Membership of a recognised ITU Federation can enter the race.
All those who are not members of a National Federation can register on the day presenting an Italian medical certificate for Triathlon. The cost of a day pass is 20,00 € for the Sprint distance and for the Olympic distance and 30,00 € for the Half Ironman distance.
The day pass must be paid at registration, The total day pass fee is charged by the Italian National Federation.
A full description of the rules and regulations can be found online at http://www.fitri.it/
CUT OFF TIMES
HALF IRONMAN TRIATHLON (1,9km – 81km – 21km) cut off time swim and bike is 5 hours
OLYMPIC TRIATHLON NO-DRAFT (1,5km – 40km – 10km)
In both races drafting is not allowed.
All FITRI rules apply.
(REGOLAMENTO TECNICO FITRI: Italian Federation rules)
RACE ENTRY
HALF IRONMAN TRIATHLON
90,00 € by 31.01.2020
120,00 € by 31.03.2020
140,00 € by 05.05.2020
OLYMPIC TRIATHLON
Senior e Master
45,00 € by 31.01.2020
60,00 € by31.03.2020
70,00 € by 03.05.2020
Junior 15,00 € by 05.05.2020
U23+S1 25,00 € by 05.05.2020
ONLINE ENTRY: MySDAM
WITHDRAWAL POLICY
Any entry cancellation will be 100% refunded up to 01/03/2020 and 50% up to 01/04/2018. There will be no refunds after 01/04/2020.
DAY PASS: Athletes who are not National Federation members can also entry by paying for a day pass on the day at registration. At registration they will be required to leave a COPY of the original medical certificate for TRIATHLON.
DAY PASS INFORMATION CAN BE FOUND AT http://www.fitri.it/download/tesseramenti.html?download=968:scheda-tesseramento-giornalieri-2018
RACE TIMES
SATURDAY 12TH MAY
12:00 Registration (Kids Triathlon for all ages, Half Ironman and Olympic distance)
19:00 Briefing at the Race Office
20:00 Registration closed
SUNDAY 13th MAY
07:00 Registration (Half Ironman and Olympic)
08:00 Transition area opens
09:30 Registration closed
09:40 Transition area closed
09:45 All start areas closed, those who are not in the right start area at the right time will not race.
10:00 Start Race Half Ironman Triathlon (start by wave)
10:15 Start Race Olympic Triathlon (start by wave)
12:15 First Olympic distance athlete expected
14:00 First Half Ironman Triathlon athlete expected
16:00 Award ceremony Race Office
Race courses
Race Area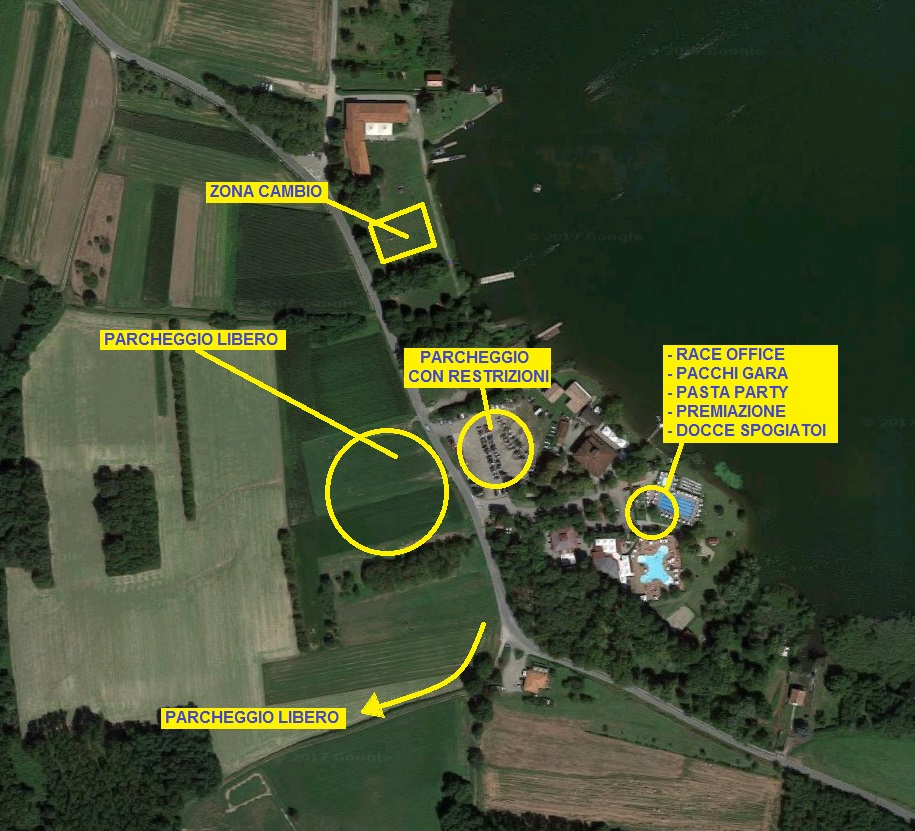 Race Course
Swim
1900 mt triathlon Half Ironman course GREEN
1500 mt triathlon OLIMPICO course ORANGE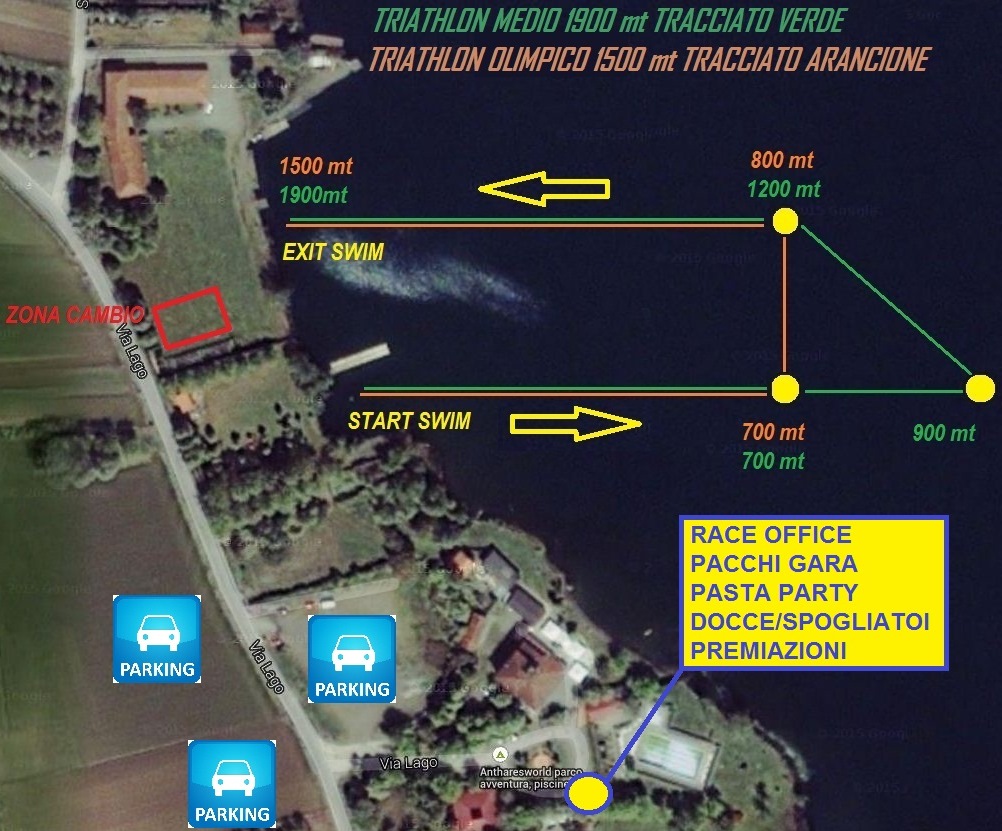 Bike
81 km triathlon HALF IRONMAN (2 LPAS)
41 km triathlon OLYMPIC (1 LAPS)
the 500mt difference is due to the initial link that will be made by the Half Ironman athletes at the end of the first lap.

Run
21  km triathlon HALF IRONMAN (4 LAPS)
10 km triathlon OLYMPIC (2 LAPS)